It's the holiday season and we are only a few short days away from Christmas. People are squeezing in last minute shopping (in fact, 56% of people still have shopping to complete), wrapping presents, hanging last minute decorations, and attending the last of their holiday parties. In between the hectic last minute errands, check out part one of our Christmas traditions posts, which explore people's decorating styles, holiday plans, and shopping habits.
Decorating is a huge part of Christmas- the trees, the ornaments, the lights, etc. How you decorate says a lot about who you are, your preferences, and your behaviors. For example, people who decorate a real Christmas tree are 96% more likely to see a new Pixar movie that comes out or people who decorate with white lights are 2X as likely to love using Pinterest than those who use colored lights. Find out if you fit the description based on how you decorate your home or apartment.
First up, a real tree vs. a fake tree:
21% of people in the US have a real tree while 54% have a fake tree. Overall, people are over 2X as likely to have a fake tree than a real tree. Although people are more likely to setup a fake Christmas tree, we found that people were 24% more likely to say they will have a real tree this year than they were last year, meaning tree sales increased this year.
So what did we find when we compared people who have a real tree vs. those with a fake tree? We found a lot, but here are a few interesting facts: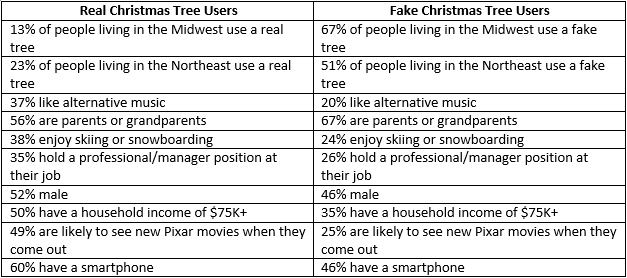 Next up are the lights:
22% of people use all white light while 19% of people use all colored lights. There are 21% of people who say they don't decorate for the holidays and 11% who say they use white and colored lights equally.
Now let's look at a few differences of people who decorate with white lights vs. colored lights:
What are the holidays without eggnog and holiday movies? Let's take a look at people's favorite Christmas movie:
People must love the Griswold's because National Lampoon's Christmas Vacation is voted the favorite Christmas movie. Next, people enjoy watching A Christmas Story, which won't be hard to find on TV on Christmas. People are not too fond of The Polar Express or Miracle on 34th Street, which can be found on the bottom of the list of favorites.
With time off work or school, some people are going to fill their time at a movie theater.
About 45% of US consumers are likely to see a movie in theaters over the holiday. People 18-24 answered "very likely" more than other age groups and those 18 and under said "somewhat likely" more than other age groups. Women were 40% more likely to say they are very likely to visit theaters over the holiday. Those living in the West are 36% more likely than people in the Midwest and 28% more likely than those in the Northeast to go see a movie.
Self-gifting is hard to avoid around the holidays when you're tempted with all those great holiday sales. 32% of people have self-gifted this holiday and those most likely to self-gift were people 18-24 years old. Women were also 36% more likely than men to say they self-gifted.
Enjoy the last few days before Christmas and check back for part two of the holiday traditions!